Childcare strikes to affect thousands of parents
CHILDCARE workers have marched through Melbourne's streets demanding better pay and conditions.
Nationwide, more than 3000 workers walked off the job on Thursday afternoon.
Up to 17 childcare centres across Victoria have been hit, with about 400 workers taking part in this afternoon's strike.
After stopping work at 3.20pm — the time the union says they start working for free — staff took to city streets flanked by children and supporters holding balloons and brandishing signs calling for fairer wages.
View image on Twitter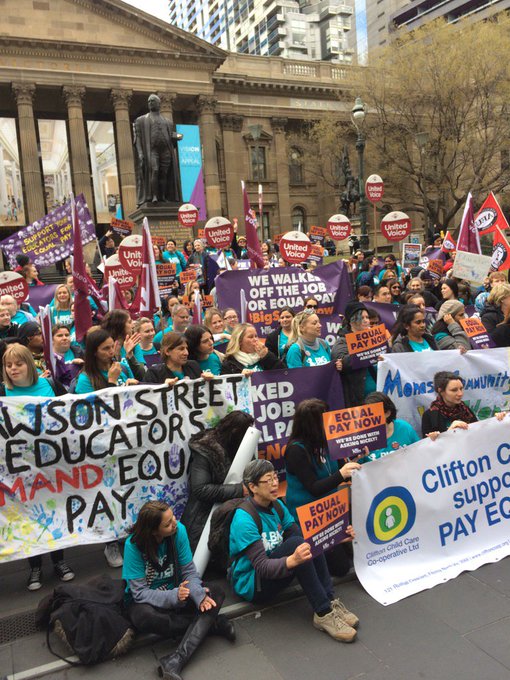 "What do we want? Equal pay. When do we want it? Now," early childhood educators chanted through wet and windy conditions in Melbourne.
"They are qualified, they are committed, they are experienced and yet they can be paid as little as $21 an hour," the United Voice union's assistant national secretary Helen Gibbons said in Melbourne.
"And everybody knows why.
"Historically, it's been seen as women's work that they did for the love of it alone. But love does not pay the bills."
United Voice says it was the biggest walk-off by childcare workers in Australian history, affecting about 10,000 Australian families.
View image on Twitter
Ms Gibbons said about 180 people leave the industry each week due to financial struggles.
"They are calling on the federal government to improve their pay rates, arguing $21 an hour is significantly less than men with equivalent qualifications earn in other sectors," she said.
"They are saying squarely to the federal government that you need to fund this sector properly.
"If we don't get an outcome today, I am pretty confident the educators are not going to give up.
"They are going to get bigger and bolder and stronger."
Childcare workers have long been frustrated with their rates of pay, and currently receive as low as $21 an hour.
They want the Fair Work Commission to agree to a 35 per cent pay increase and for the federal government to cover the difference.
Chandi Mayadunne, who has been an early childhood educator in Melbourne for almost 20 years, said they were not paid enough for the role they played in children's development.
"I love working in this important area," she said.
"Ninety per cent of brain development occurs during the first five years.
"The government needs to think about this deeply, and that's why we're walking off the job: to show Malcolm Turnbull that we won't be treated like a doormat any more."
She said some parents were joining with the workers to support the industrial action.